Monday, December 16, 2013
Overview
The building envelope – also known as the building shell, fabric or enclosure – is the boundary between the conditioned interior of a building and the outdoors. The energy performance of building envelope components, including external walls, floors, roofs, ceilings, windows and doors, is critical in determining how much energy is required for heating and cooling. The building envelope's impact on energy consumption should not be underestimated: globally, space heating and cooling account for over one-third of all energy consumed in buildings, rising to as much as 50% in cold climates and over 60% in the residential sub-sector in cold climate countries.
Overall, buildings are responsible for more than one-third of global energy consumption. While whole-building approaches are ideal, every day building envelope components are upgraded or replaced using technologies that are less efficient than the best options available. These advanced options, which are the primary focus of this roadmap, are needed not only to support whole-building approaches but also to improve the energy efficiency of individual components.
Key figures:
Building envelopes are expected to save almost 6 exajoules in 2050 under the 2 degree Celsius scenario, equivalent to the current energy consumption of the United Kingdom. The roadmap establishes a strategy to transform how the world's buildings are constructed and renovated.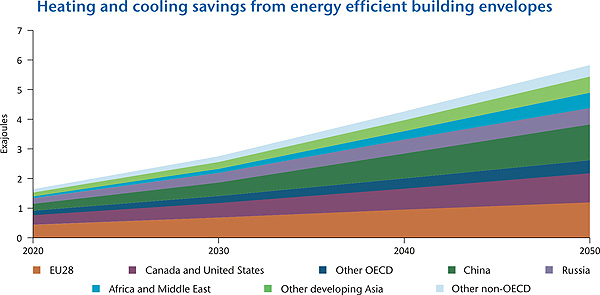 Key findings:
The construction of new buildings offers the best opportunity to deploy passive heating and cooling designs, which make use of energy-efficient building materials to minimise energy required for heating and cooling.
Transforming typical building renovation to make way for deep reductions in energy consumption – known as deep renovation – should be a high priority.
Building envelope improvements can improve occupant comfort and the quality of life to millions of citizens, while offering significant non-energy benefits such as reduced health care costs and reduced mortality of "at risk" populations.
Air sealing – restricting the passage of air through the building envelope – is a key way of increasing energy efficiency during new construction and deep renovation. Energy audits, such as the energy performance certificates that are mandatory in the European Union, should include regular, validated testing of air leakage (e.g.at least every 10 years).
New office buildings should be fitted with integrated facade systems that optimise daylight while minimising energy requirements for heating, cooling, artificial lighting and peak electricity use.
It is vital to increase global collaboration on developing more affordable zero-energy buildings, especially in cold climates.
R&D on the following technologies will lead to greater returns on investment:

highly insulated windows
advanced, high-performance, "thin" insulation
less labour-intensive air sealing, and lower-cost validation testing
lower-cost automated dynamic shading and glazings
more durable and lower-cost reflective roof materials and reflective coatings.

To provide policy makers with the information they need, key energy efficiency indicators and benchmarks should be established for the energy consumption of multiple building types, and the market share of advanced building envelope technologies and products should be tracked.